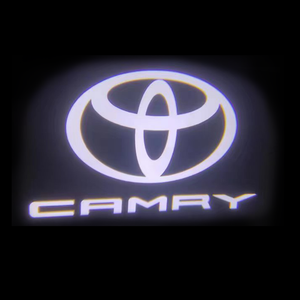 2x Toyota DOOR LIGHT (PLUG&PLAY)
ORIGINAL CAR DOOR LIGHTING: Make your Toyota stand out with an original car door lighting. With lighting technology that projects the Toyota logo on the ground under your door, and providing convenient illumination at night or darker spaces, this is a fancy and useful accessory for anyone with a Toyota car. 

BRIGHT AND HIGH DEFINITION: Using a high brightness LED chip, you will have no trouble viewing the area near your car door, for easy entrance and inspection. The Toyota logo is projected in high definition, crystal clear and with vibrant colors. 

EFFORTLESS INSTALLATION: Forget about wirings, drillings and assemblies. Unlike other car door lighting products, there's no need for a connection wire. Simply remove the previous door light with the appropriate tool, and plug in your new Toyota logo projector with the corresponding connector. It will take less than 5 minutes!

LONG LASTING POWER: Consuming very little power thanks to LED technology, our car door lighting will be no burden at all for your car battery. Designed to be durable, it will illuminate your car entry space for a really long time. 


Product specification:

100% brand new
Life span: More than 100,000 hours 
Voltage: 12V
Output power: 10W
Material: ABS+Aluminum alloy
Quantity: 2Pcs 
Installed Simply, Good Looking and Utility
High Brightness LED, Power Consumptions Savage

Fits for:  
Crown                   2005 -- 2017
    
Land Cruiser/ Roraima      2008 -- Now
    
Prado                           2010 -- Now
    
MARK X  (X130)           2010 -- 2019
    
Camry                          2006 -- Now
    
Daihatsu Altis               2006 -- Now
    
Highlander                    2008 -- Now
    
Kluger                           2008 -- Now
    
Corolla                          2007 -- Now
    
Verso                            2009 -- 2018
    
SportVan                       2009 -- 2018
    
Prius ( After Second Generation )    2003 -- Now
    
Sequoia (XK60)             2007 -- Now                       
    
Previa (XR50)                2006 -- Now
    
Estima Aeras                 2006 -- Now
    
Tarago                           2006 -- Now
    
ALPHARD (After Second Generation)   2008 -- Now
    
Vellfire                            2008 -- Now
    
TUNDRA                              2011
    
GT86/ FT86                   2012 -- Now
    
Scion FR-S                    2012 -- 2016
    
VENZA                           2008 -- 2017
    
Sienna (XL30)                2011 -- Now
1

 

YEAR FULL WARRANTY! 
Package includes:
2x door projector light 
---
We Also Recommend